LAB CREATED DIAMONDS
Discover our extensive collection of conflict-free and environment friendly lab created diamonds.
Shop Now
HOW LAB DIAMONDS ARE MADE
There are two primary methods used to create diamonds in a laboratory: CVD (Chemical Vapor Deposition) and HPHT (High Pressure High Temperature). Our product involves a combination of both.
The HPHT method involves the application of high temperatures and pressures to a small seed crystal, while the CVD process "grows" the diamonds from the chemical reaction of distilled carbon gas and a seed crystal.
Our lab-grown diamonds are created using either the CVD (Chemical Vapor Deposition) method or HPHT (High Pressure High Temperature).
ECO FRIENDLY

Lab created diamonds are sustainable diamonds, they are ethically grown with minimal environmental impact.
BEAUTY & QUALITY

Lab diamonds have same physical, chemical and optical properties as minded diamonds.
VALUE

Lab diamonds offer excellent value and are slightly more affordable than natural diamonds of comparable size and quality.
LAB CREATED DIAMONDS VERSUS DIAMOND SIMULANTS
It is important to note the major distinction between lab diamonds and diamond simulants. Diamond simulnats, such as cubic zirconia and moissanite, look similar to diamonds but are not true carbon crystals. Simulants do not have the same chemical and physical properties as natural diamonds and therefore sell at much lower prices than lab diamonds. Simulants can be distinguished from natural or lab diamonds using only the naked eye.
Natural and lab diamonds have thermal conductivity properties that differentiate them from cubic zirconia with a handheld diamond tester. Some lab diamonds, along with some natural colored diamonds, may be mistakenly identified as moissanites when using certain diamond testers due to similarity in their electrical conductivity. However, gemologists can typically distinguish between diamond and moissanite due to their differing refractive properties, with moissanites being double refractive and diamonds being single refractive.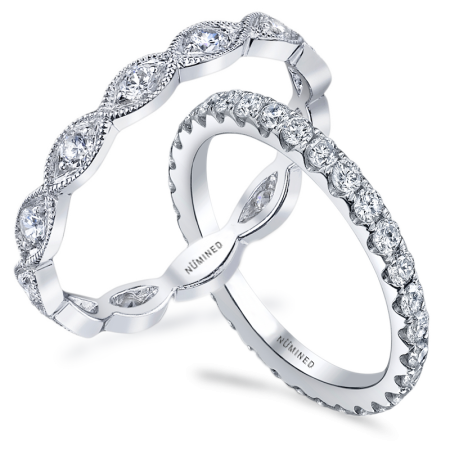 Our lab created diamonds display the same physical, chemical and optical characteristics as natural diamonds, and exhibit the same fire, scintillation and sparkle. Using a jewelry loupe, man-made diamonds are nearly impossible to differentiate from natural diamonds. Lab diamonds may exhibit different trace elements than natural diamonds that do not affect the appearance of the diamond. Lab diamonds can be distinguished from natural diamonds only with tests using specialized equipment. Lab created diamonds available for purchase should always come with a gem certification identifying them as laboratory-grown.
Numined is dedicated to offering socially and environmentally responsible fine jewelry. Our lab created diamond jewelry pieces are accompanied with a certificate of origin to provide assurance that they are ethically grown with minimal environmental impact.
From color and clarity to perfect cut choose a diamond that is one-of-a-kind.
WHY BUY LAB GROWN DIAMONDS FROM NUMINED DIAMONDS?
Certifications
Without the laser inscription of a certification number on the girdle of our diamonds, it's impossible to tell our lab grown and mined diamonds apart. All Numined Diamonds are certified by the highly regarded laboratories; IGI, GSI and GCAL, where grading standards are among the strictest in the industry. GIA certification is also available upon request.
Upgrades
Our lab grown diamonds can be upgraded at full value towards a replacement of at least 50% or greater value. Simply, send your diamond to us with its original Lab report and choose your new diamond, then pay the difference. In the event of market decline, your diamond will retain comparable retail value.
Conflict-free Diamonds
At Numined Diamonds, we strictly adhere to the standards established by the Kimberley Process. All Numined diamonds are created in laboratories and are warranted to be conflict-free, as they are not created in the same war-torn and unethical conditions often found in the mined diamond industry.
Credibility & Security
For your protection and safety, all of our diamonds are laser inscribed with your certificate number — which is viewable under magnification on the girdle of your diamond. Any information about you and your purchase will never be shared or sold to anyone. You have our guarantee.